Michael Campion "Jackson"
from Fuller House hosting workshops at
The Maile School
---
Maile School acting grad Michael Campion absolutely loves acting!
Whether he is in front of the camera or performing live in theater, he is doing what he loves.
He has been active in this field since he was four years old. He acquired an agent at the age of five and went pro. Before he landed the role of Jackson on the Netflix show Fuller House he was in films such as Robo-Dog, Robo-Dog Unleashed, and Christmas Trade. 
He finished shooting season 3 of Fuller House and the first half of the season started premiering on Netflix September 22nd, 2017.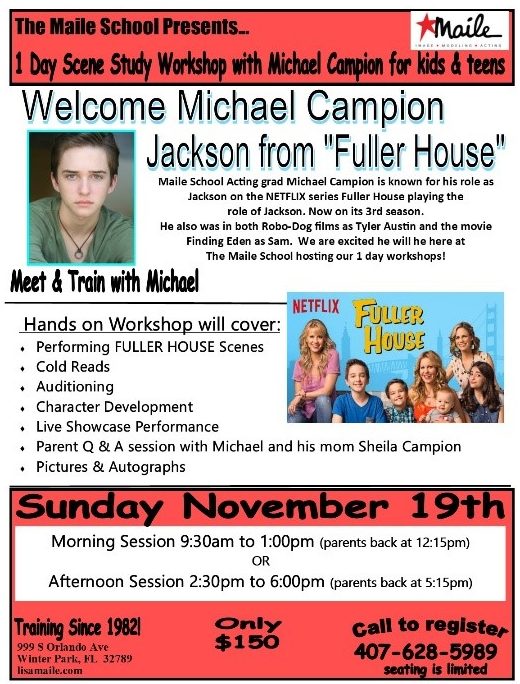 We are happy to have Michael here at The Maile School presenting a scene study workshop for kids and teens. All students will meet and train with Michael as he will work with them on Fuller House scenes and character development.
Students will also perform scenes live for all parents. Michael and his mom Sheila campion will also have a question and answer session with the students and parents.
This workshop is held exclusively at The Maile School on Sunday, November 19, 2017.
Morning session is 9:30am to 1pm with parents returning at 12:15pm and an afternoon session from 2:30pm to 6pm with parents returning at 5:15pm. The cost is only $150 but seating is limited.
We are so happy for Michael and all of his industry success. He looks forward to many more years of acting, training and working in this field.
Michael says," It's not really work when you're doing what you love."
Call The Maile Image, Modeling & Acting School today at 40 7-628-5989.
---