Give something meaningful
that can be used for a lifetime…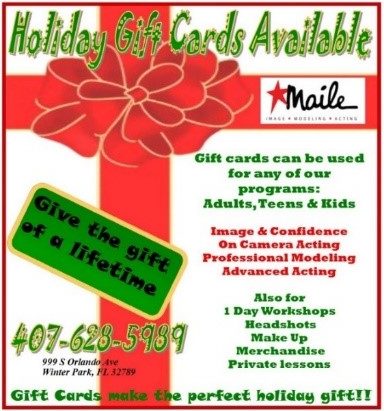 Check out what The Maile Image, Modeling and Acting School has to offer that will surprise your special someone with one of the many gifts we provide.
The Maile School offers classes in Image & Confidence Development, Professional Modeling and on Camera Acting for TV, Commercials and Film. We have programs for adults, teens and kids starting at the age of 4 years old.
If someone wants to work on self-development or everyday life skills in the areas of posture, make-up, skin care, public speaking, etiquette, manners, interviewing and communication skills, we have Image professionals to help with just that. Available for girls ages 11 to 18 years. We can also customize a program to fit any adults professional needs.
Do you know someone who is interested in exploring the acting or modeling industry? Our on camera TV, commercial or film acting or professional modeling programs will help and is just the right fit. Students train in the areas of commercials, cold reads, runway, print work, and auditioning.
All industry programs include our Professional Industry Session on breaking into the business. We assist with agency representation, how to avoid scams, resumes, photos, headshots, contracts, booking jobs and so much more.
Give someone one of our 1 day hands on workshops on auditioning, improvisation teleprompter training or etiquette.
Also headshot photo shoot packages, private lessons, a Maile School t-shirt, tote bag, make-up or skin care products makes for the perfect gift!
Call The Maile School today at 407-628-5989 to get more information. Don't wai t call now time is running out.
Make someone smile this holiday season and give something meaningful that they can use for a lifetime.