1 Day Hands on Workshop for Teens & Kids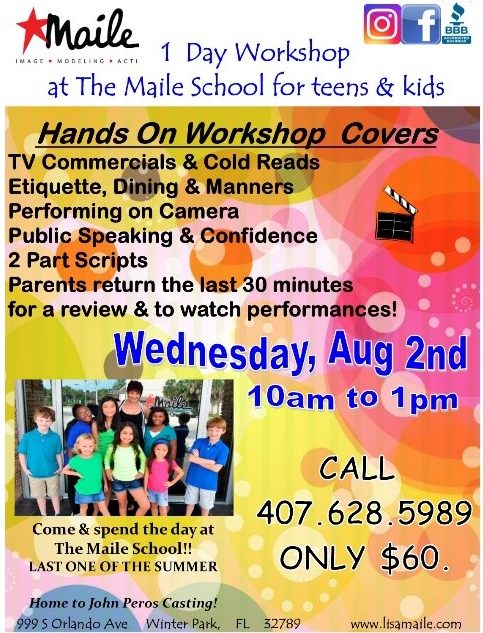 Last one for the summer.. Wednesday, Aug 2nd
Hey Teens & Kids… Check out our 1 day August Workshop.
This hands on workshop will focus on cold reads, commercials, etiquette, table settings, everyday manners, 2 part commercials, building confidence and public speaking taught by Debby Tapia.
Debby has been with The Maile School for over 25 years and has been an instrumental part of the school's success. She is a certified Etiquette Consultant trained at the American School of Protocol in Atlanta, Georgia.
If you are new to the industry or already a working actor this informative workshop will be beneficial and fun. If you are looking to try something new and build confidence then come and check it out. You will not be disappointed.
This is the last one of the summer. Wednesday August 2nd from 10am to 1pm and held here at The Maile Image, Modeling & Acting located at 999 S Orlando Avenue in Winter Park.
All students perform and train on camera as well as perform in front of a live audience at the end. We invite all parents in the last 30 minutes for a review, watch the video and to see all the students perform live.
All skill levels are welcome and for ages 7 to 16 years and the entire workshop focuses on acting and building self-esteem.
Come, have fun and spend the day at The Maile Image, Modeling & Acting School in our 1 day hands on workshop. Don't miss out.
Call now 407-628-5989. Seating is limited.